Welcome
Angel of Culture
® - Art project for promoting intercultural/ interfaith dialogue
President of the EU-Parliament, Martin Schulz:
"The Angel of Culture is a peerless symbol of the European idea. The sculpture coveys the message of respect and humanity ... It would be hard to find a better expression of how people are interconnected despite differing religious and cultural backgrounds...."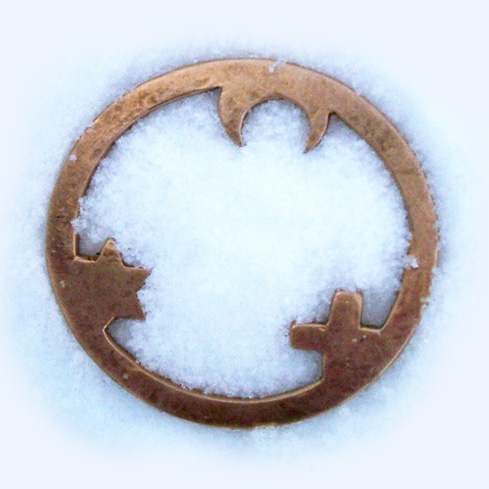 Brochure 2013, Our current booklet in English, click here>>
The
Angel of Culture
is an art project, initiated by the two German artists Carmen Dietrich und Gregor Merten, which strives to unite citizens of the three Abrahamic faiths - Judaism, Christianity and Islam. Its aim is to establish a symbol for peace and harmony between these religions and cultures, in combination with active civic involvement.
The central component of the project is a wheel-shaped sculpture which contains the symbols of the three Abrahamic religions - a Cross, a Crescent, and a Star of David. Together, these form the silhouette of an angel. The sculpture symbolises intercultural peace and tolerance, as well as the interdependence of faiths and cultures whereas a damage done to one group will also severely harm the others.
In the course of the project, the "angel" of the sculpture is projected on the ground in front of religious buildings and other important buildings through a sand print. The sculpture is laid on the ground and filled with white sand; when it is removed again, its angel-shaped interior, formed by sand, is visible on the ground. As a more durable alternative, an inlay is created out of steel, blue concrete and aluminium which is then installed in the ground in front of schools and other public institutions which participated in the project. In both cases, there is the opportunity for the public to actively participate in the creation of the prints or inlays.
The "Angel of Culture" project was launched in Cologne, Germany, on 9 November, 2008 - the 70th anniversary of Kristallnacht - where the silhouette of the sculpture was left in sand in front of the city's cathedral, synagogue and mosque. During 2010, the artists launched a journey in the course of which the sculpture was brought to the three cultural capitals of Europe 2010, travelling from Essen via Pécs to Istanbul. In the course of this journey, the wheel-shaped sculpture was rolled through fourteen cities and towns in Germany, Hungary, Bosnia and Herzegovina, Serbia, Macedonia, Greece, Turkey, Bulgaria, and Slovenia. In every place that was visited, the "Angel of Culture" symbol was installed in the form of sand prints, inlays and other arrangements such as graffiti.
Please click
here
to get a first insight.
More informations (screen demonstration)
here
Please excuse.
This page is still under construction.
The Buttons will redirect to the german page.